A Wonderful Tourist Spot in Flores - Sembilan Island
---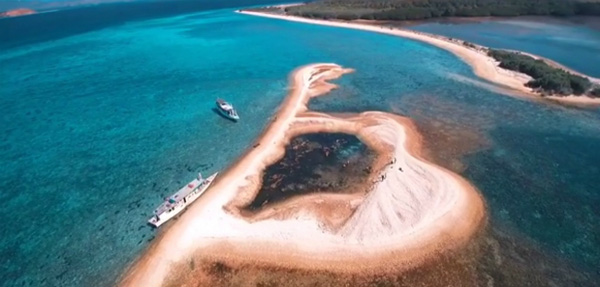 Komodo Island offers numerous vacation destinations. It seems your option is limitless. Since there are many islands nearby, you need to review them. Here is a recommendation. The name is Mangiatan Island. However, most of the tourists call it Sembilan Island. Like the name cited, it has the shape of number 9. The island is unpopulated, actually. It is famous for its solemn and beautiful nature. The size is quite small, but it features numerous attractions. Also, only small boats are able to get near to it.
The Nuance
Even Sembilan Island is small, it is quite stunning. It features white and gold sand. The texture is hard so you can't walk around on it comfortably. Make sure you wear comfortable sandals. What's next? The island is located on shallow sea water. You can play in the water safely. The water is clear and beautiful. There is no wave at all. As mentioned before, there is no one living here. Thus, the island becomes a perfect vacation retreat for everyone. Not to mention there are not many visitors regardless of the season. It feels like you are the owner of this island.
Exploring Sembilan Island
Sembilan Island was formed by dead corals. Some parts of the island feature hard corals. It can be quite uncomfortable walking on it. Due to this reason, you should wear proper footwear. The best feature of the island is its natural pond. It is situated in the midst of it. The pond is actually the home of jellyfishes. No worries. They aren't harmful. It is because they don't sting like others. The size of the pond isn't quite big. Not to mention the water is shallow.
These jellyfishes are small and harmless. You can even grab it with your hand. Their unique part is the tentacles. The color is blue. According to the locals, this type of jellyfishes lost their sting due to the absence of predators. It is possible to swim around the pond. You can even conduct snorkeling here. For a better experience, you can play on the beach. One thing, you must be aware of the high tide. It is better to be safe than sorry.
Apart from jellyfishes, Sembilan Island also becomes the home of other animals. There are numerous fishes on the sea. Sometimes, you can find several bats flying on it. Swimming and snorkeling are possible. Though, you should have prepared the equipment. There are no people here. So, you can't expect facilities and accommodations. On top of that, you should carry some snacks and bottled water.
How to Get There
Sembilan Island is located near to Komodo Island. From Bali, you can take an airplane to Labuan Bajo. From here, you can use a speedboat to reach Sembilan Island. It is about 3 hours. If you come from Komodo Island, the trips won't take much time.
Where to Stay
Sembilan Island is unpopulated. That means there are no hotels or facilities. When it comes to accommodations, you can find some hotels either in Komodo Island or Labuan Bajo. Komodo Resort is quite popular, as well. Overall, make sure you bring much money.