A Stunning Kerora Village in Rinca Island
---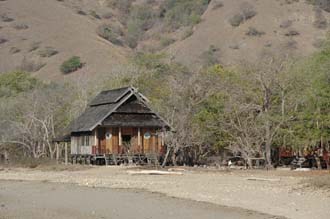 In Rinca Island, you can find interesting villages. Here is an example. The name is Kerora Village. It is inhabited by about 500 villagers. Many visitors come to this small village due to its natural attractions. The most favorite activities are trekking and snorkeling. You can also enjoy the scenery from the hills. In a nutshell, the village is suitable for an adventure and a relaxation. Most of the visitors are nature lovers. Some of them are photographers. It is because Kerora offers many stunning objects. These include beaches, hills, plants, etc.
The Nuance
Once you reach Kerora Village, you can feel a solemn ambiance. The sky is blue and the wind is soothing. The beaches will make you speechless. On top of that, you can find green and stunning hills. It is perfect for trekking. Not to mention you can witness mountains across the sea. Some parts of the beach are shallow. That means you can play comfortably in the water. The sand is soft and white. It is a paradise! Don't forget to carry some clothes and a camera.
Exploring Kerora Village
Most of the visitors come to the village for trekking. There are numerous trekking paths, so you can choose the right one. For the best adventure, you should choose the longest one. It takes much stamina, though. Usually, tourists may choose a medium trek. The final destination is the Panorama Hill. From here, you are able to witness unparalleled scenery. For beginners, it is better to come with a tour guide. At least, he can help you get around the village comfortably.
Apart from trekking, you can play in the shorelines. The water is crystal clear. For couples, these beaches are indeed quite romantic. One thing, you should know how to get to these beaches. No worries. You can rely on the locals. Also, there are no facilities nearby. You should have prepared some clothes. It is also wise to carry some snacks and fresh water. If you want to relax on the sand, you must carry a mat. Also, the sun can be quite hot. A sunblock is indeed recommended.
Another interesting activity is to explore Kerora Village. There are not many villagers here. In fact, it has a smaller number of villagers than Rinca Village. Most of the locals work as a fisherman. There are only a few of carvers. The others work as a tour guide. They can earn lots of money during holidays. The tourists may buy their carvings and souvenirs, as well. If you are lucky, you will be invited to their house.
Nearby Attraction

Komodo National Park
Rinca Village
Loh Liang
Kanawa Island.
How to Get There
Kerora Village is located on Rinca Island. You can reach it from Labuan Bajo. The trip takes 2-3 hours by a boat. If you come from Bali, you can either take a plane or a ferry. Once you reach Labuan Bajo, you can rent a local boat to Rinca Island.
Where to Stay
Here are some best hotels to stay in Labuan Bajo:

Luwansa Beach Resort
Laprima Hotel
Bintang Flores
Le Pirate
Latest News
Koja Doi Village is located in East Alok sub-district, Sikka Regency, East Nusa Tenggara (NTT). Visitors can access this village by boat with a travel time of about 40 minutes from Nangahale Harbor. Koja Doi is one of the tourist villages that won the Indonesia Sustainable Tourism Award (ISTA) from the Ministry of Tourism and Creative Economy. This village offers marine tourism, nature tourism, and cultural tourism. Koja Doi Village has several spot to visit, such as the site of the 1992 tsunami, a stone bridge, ancient rock hills, and…
---
West Sumba has a number of beaches that are destinations and attractions for its tourism sector. One of them is Marosi Beach. This beach is located in Lamboya District. You don't need long from Waikabubak to the location. Enough to travel overland for approximately one hour. In fact, you are also not charged a levy when entering this beach area. Marosi Beach is a beach that is completely empty of visitors. This is a recommended place for those of you who want to get rid of boredom from tired activities.…
---
Aili Beach in Central Sumba Regency, East Nusa Tenggara Province No one can deny the values of natural attractions like beaches, no? When it is about beautiful beaches, East Nusa Tenggara Province has many of them including the one called Aili Beach of Central Sumba Regency. To be exact, the location is in Konda Maloba Village and it resides in South Katikutana Sub-District. Like other beaches of NTT Province, this one is recognized for its pristine nuance and beautiful white sand. The good thing is that it resides in the…
---
Gunung Meja Waterfall in East Sumba Regency Aside from exotic beaches and interesting local culture, East Nusa Tenggara Province is the home to other tourist attractions including waterfalls. Well, one of them resides in East Sumba Regency, which is called Gunung Meja Waterfall. To be exact, the location is in Kuta Village and it belongs to Kanatang Sub-District. Have no worries. The distance is considered especially for those coming from Waingapu City. So, what makes it unique? Some locals call it the hidden nirvana waterfall due to its nice landscape…
---