A Glamorous Red Beach in Labuan Bajo – Namo Beach
---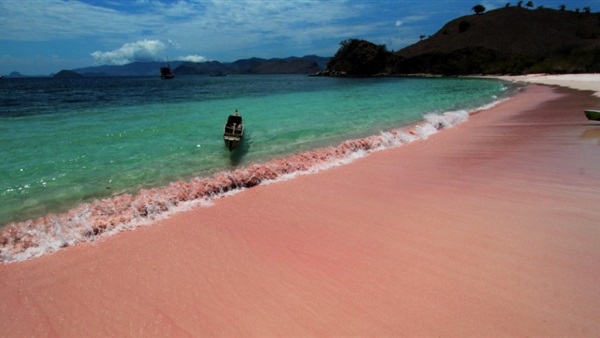 Have you heard about Namo Beach? Tourists often call it Red Beach. This tourist spot is famous among both local and foreign travelers. Is it better than the Pink Beach in Komodo Island? Well, both of them offer distinct charms. It terms of color, Namo is way much bolder than Pink Beach. Both of them have an unspoiled beauty, though. Unfortunately, some bad visitors often litter. Aside from this issue, tourists keep coming here. Thanks to its uniqueness and charm. In fact, you can do many things here.
Exploring Namo Beach
The water isn't quite clear. Though, the sand is stunning. The texture is smooth and the color is red. The sky is clear during summer. The wind is warm so you can feel relaxed here. Another interesting thing is the nuance. There are some speed boats coming here. Most of the visitors are tourists and locals. All of them want to obtain a splendid experience on this island. What about you? It can be as simple as walking around the beach. The weather is nice, after all.
Apart from relaxing, Namo Beach is perfect for snorkeling. Thanks to the calm water. You can either swimming or snorkeling here. It features gorgeous corals and fishes. Even though you are a beginner, you can explore the beach easily. It is better to follow the instruction, though. Another interesting activity is photography. Namo Beach is the home of beautiful objects. These include boats, hills, local buildings, visitors, etc. You don't have to be a professional photographer! With such beautiful landscapes, you are going to capture many worthy pictures.
Namo Beach is one of the best tourist spots in Labuan Bajo. It also has an easy accessibility. That means you can reach this location easily. The beach is suitable for those who love nature. Though, you must rely on the locals. Only local people know the route to the beach. Here is an idea. You need to find a tour guide in Labuan Bajo. He will be your partner during the trip. What you need is money. Make sure you give him a nice tip.
In Namo Beach, you have the chance to witness wild deer. They often come to the beach, after all. Do you like fishes? Well, the corals become the home of small fishes. You can see them, especially while snorkeling. Overall, the beach becomes another unique spot in Komodo Island. You can visit both Pink and Red Beach. Not to mention you have an opportunity to see the famous Komodo dragons. They are kept in Komodo National Park.
How to Get There
It takes about 20 minutes from Labuan Bajo. Even though it is easy to reach, you need a clear navigation. As mentioned earlier, it is better to hire a guide. Even though it costs some money, you won't get lost. Once you reach Namo Beach, make sure there are no Komodo dragons nearby. Sometimes, they come to the beach to hunt turtle's eggs. It is better safe than sorry. Don't forget to bring a camera, as well.