The Sea Gili Lawa in Flores Island
---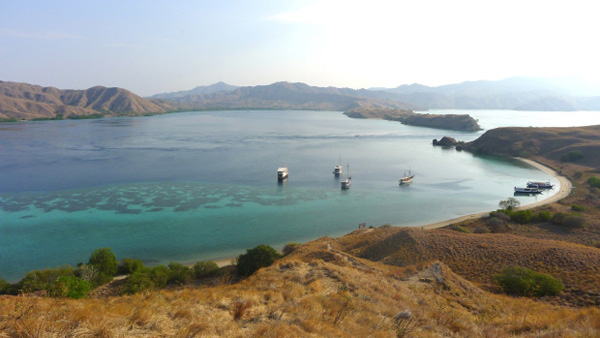 Almost all tourists recognize Komodo Island. It is famous for its Komodo dragons. Here is the thing. There are other attractions as well. For example, there is Sea Gili Lawa Island. It becomes the main entrance to Komodo National Park. The island is uninhabited and it belongs to East Nusa Tenggara. It is located near to Komodo Island and Land Gili Lawa / Gili Laba. The most famous tourist activity is trekking. Most of the visitors come here due to its beautiful scenery, after all.
The Nuance
Sea Gili Lawa has similar features to its sibling (Gili Laba). There are some hills and beaches. The land is covered by grasses. It is a savanna! In the shorelines, you can enjoy clear water and sandy beach. It is quite refreshing. Since there are many highlands, it is possible to explore them all. Trekking is the best thing to do. One thing, there are no local people. A group vacation is recommended. At least, you should hire a tour guide. Why is that? The island isn't suitable for single tourist.
Exploring Sea Gili Lawa
As the name implies, you can take advantage of its marine beauty. Apart from trekking, most of the tourists would love to enjoy both sunrise and sunset from the beach. Not to mention there are numerous beautiful objects in the sea. These include coral reefs and fishes. For those who love diving, the island is definitely a wonderful destination. Next, it is the meadow. The grasses look beautiful, especially during summer. In a nutshell, Sea Gili Lawa combines both highland and sea beauty.
This island is also famous for its diving sites. There are two major spots available. First, it is Crystal Rock. The name comes from its landscape. It is the combination of crystal clear seawater and rocky environment. You can find many species of anthias and fusiliers in the sea. Not to mention there are many beautiful corals below. In some occasions, you can meet both mackerel and tuna. This diving site is quite famous among both local and foreign tourists.
Another popular diving spot in Sea Gili Lawa is the Castle Rock. It is the best spot to witness fishes. The most popular ones are morays and batfish. There are also sea fans and soft corals. One thing, it doesn't suit beginners. You may expect strong currents. Moreover, some manta rays and sharks are occasionally seen here. In order to enjoy a great diving experience, you should come with an instructor. Overall, the island is good for both trekking and diving. Don't you think so?
Nearby Attractions

Toro Sebita
Makasar Island
Land Gili Lawa
Kelor Island
How to Get There
Sea Gili Lawa is located near to Komodo Island and Land Gili Lawa. You can reach it from Labuan Bajo. It is situated in the eastern part of this checkpoint. The trip usually takes about 3-4 hours. The most common transportation is a speedboat. Before visiting the island, it is better to prepare both the equipment and foods. Once you reach Gili Lawa, you won't find any facilities.
Where to Stay

Komodo Resort and Diving Club in Labuan Bajo