Papagarang Island in East Nusa Tenggara
---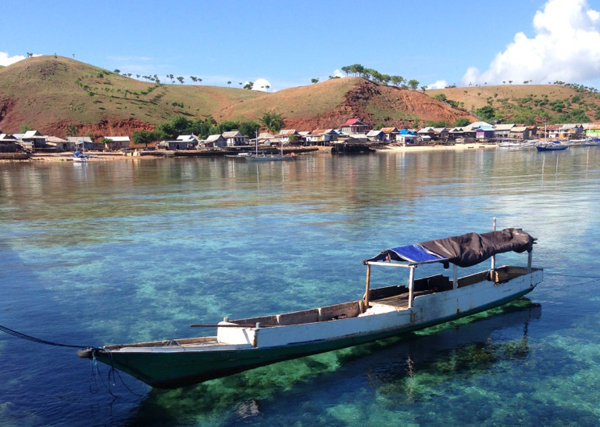 For the next holiday, you should consider Flores Island. East Nusa Tenggara is a beautiful province. Flores is the part of it. Flores means "flower" in Portuguese. Many tourists come here due to its charm. There are also numerous small islands nearby. If you are looking for a distinct adventure, Papagarang Island is a good choice. The island is located near to Pengah Kecil Island. It is in East Nusa Tenggara. For those who love solemn nature, Papagarang is a nice destination.
The Nuance
It is a little bit difficult in describing Papagarang Island. In a nutshell, it is a small island. Like other nearby islands, it features highlands and beaches. However, you won't find a meadow here during the dry season. The island is mostly covered by dry land. Though, it features green and comfortable grasses during the rainy season. There are only several trees on it, as well. What about the beaches? There is a small village called Papagaran Village. It is located on the shorelines. There are also some fishermen's boats parked here. Overall, the island offers calm and beautiful nuance.
Exploring Papagarang Island
The best attraction in the island is Papagaran Village. You can witness local's routines and culture. Most of the villagers are fishermen. They rely much on fishing. Their houses are made of wood. When it comes to architecture, they apply "Panggung" design. The village is worth a visit, after all. You can meet local people and kids, enjoy local foods, and buy some souvenirs. If you don't have a place to stay, you can talk to villagers. If you are lucky, you can spend a night in their house.
Next, Papagarang Island is famous for its trekking. The scenery on the top of the hill is quite worthy. However, it takes much effort to reach the summit. As mentioned earlier, there is no meadow. That means your trip will be dull. Fortunately, it is a rewarding journey. Once you reach the top, you can enjoy great views. You can even see Papagaran Village from here. Before trekking, it is better to carry some refreshments like bottled water and snacks.
Nearby Attraction
Papagarang Island is located near to numerous tourist attractions. For example, there is Goa Batu Cermin. It is situated in Labuan Bajo. The cave offers stunning features like stalagmite and stalactite. Next, you need to visit some local restaurants in Labuan Bajo. You can enjoy some good delicacies and a warm cup of coffee. If you have much money, you can explore other vacation destinations. Flores Island offers unlimited tourist spots. Papagarang Island is part of it, though. That means you should never miss this island.
How to Get There
Papagarang Island is located near to Komodo Island and Rinca Island. If you are foreigners, you should reach Labuan Bajo first. It is reachable from Denpasar, Jakarta, and other big cities. Once you reach Labuan Bajo, you can use a speedboat to Papagarang. It takes about 4-6 hours. Don't forget to bring much money. You may use it for accommodations, transportation, foods, and souvenirs.
Where to Stay
You can choose different types of accommodations:

Komodo Resort in Komodo Island
Various hotels in Labuan Bajo
Locals' house in Papagaran Village