Gili Motang Island is Small Yet Stunning
---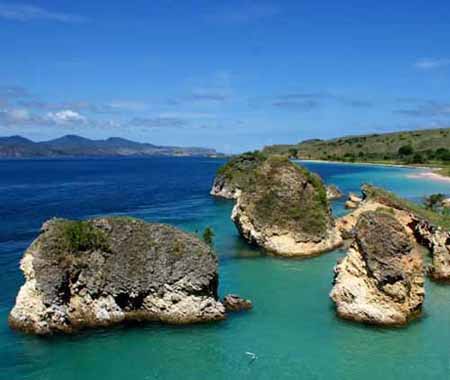 Indonesia has a famous Komodo National Park. It consists of several islands, actually. One of them is Gili Motang. This small island becomes the home of hundreds of Komodo dragons. The island is only about 31 km2. Despite its small size, it has attracted many visitors every day. The only downside is its accessibility. It takes both efforts and time. So, what can tourists enjoy here? It has more than famous Komodo dragons. It is because you can enjoy its beauty and history. The island has many things to explore, after all.
Visiting Gili Motang Island
The island has a calm atmosphere. It is suitable for those who look for a relaxation. It also has approachable beaches. The water is clear and there are some stones on the shoreline. The beaches are featured by hills and bushes. You can simply walk near to the water and enjoy both refreshing wind and beautiful scenery. On top of that, the water is shallow. You can play in the water comfortably. Once you enjoy your time at the beach, you can witness some majestic Komodo monitors in the park.
Most of the Komodo dragons live on Komodo Island. The others live in Gili Motang and Rinca Island. Some of them live in eastern Flores, as well. Today, there is about 100 Komodos in Gili Motang. This makes the island the smallest habitat of this exotic lizard as compared to others. Regardless of its small number, tourists won't regret visiting the island. Thanks to the stunning landscape and peaceful beaches. Are you interested? The island also holds an interesting history.
Local people in Gili Motang Island came from Bugis region. Their ancestors were travelers. These people arrived at Gili Motang and created a boat to explore Mbojo. Local people believe their ancestors were Bugis' sailors. Due to this reason, there is a unique tradition here. The locals are able to make a unique boat. This technique was obtained from their ancestors, for sure. What is more? There are other interesting tourist spots to visit. You should visit them all.
For instance, there is Golo Motang Mountain. It offers jaw-dropping scenery from the summit. There are also nearby islands like Nusa Baleh, Nusa Sambi, Nusa Peropa, Nusa Balehkoe, Toro Sambi, and much more. When it comes to landmarks, you can enjoy Loho Mpoang, Loho Rongkeng, Loho Mbeku, etc. All of them are unique. You should never miss these tourist spots. One thing, you should use a ferry to explore nearby islands. That means you should spend more money. Make sure you are prepared.
How to Get There
It takes much time to visit Gili Motang Island. From Bali, you can use an airplane to Komodo Aiport. Your checkpoint will be Labuan Bajo. It is the best location to look for a hotel or restaurant. From here, you need to use a ferry and visit Motang Island directly. If you have much money, you can rent a room on the boat. No worries. There are some cooks on board. Once you reach the island, your adventure begins.