Sebayur Island in Labuan Bajo, Flores
---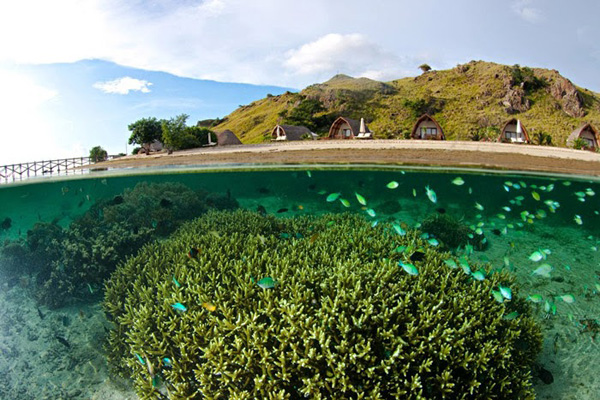 The most visited tourist spots in Flores are Komodo Island and Labuan Bajo. Both of them offer distinct attractions. Like the name cited, you can find many Komodo dragons in Komodo Island. What about Labuan Bajo? It features many beautiful landscapes and small islands. For instance, there is Sebayur Island. This small island has been chosen as one of the best sites for snorkeling and diving. That means Sebayur is famous for its water sports. Still, there are many other attractions to enjoy.
The Nuance
Each tourist has a different reason to visit Sebayur Island. Most of them are attracted to its nature. Most of the island is covered by green and shady hills. The atmosphere is quite refreshing. You are able to relieve your stress in this island. The beach offers white sand and soothing zephyr. Moreover, the sea water is crystal clear. On the beach, you can find a resort. The structures are made of woods. These are similar to a shack. In the back, you can find beautiful green hills. What a stunning view!
Exploring Sebayur Island
As mentioned earlier, the island is a perfect place for water sports. You don't need to carry diving equipment. The resort provides both facilities and equipment for tourists. There is even a diving package. On top of that, there are many diving sites nearby. These include Crystal Rocks, Castle Rock, Batu Bolong, etc. In order to reach these spots, you should ride a local boat. This speedboat can accommodate about 10 people. That means you can conduct a group diving. Make sure you come with your friends or family.
The land is mostly dry. Though, you should only focus on the sea. Diving is a primary tourist activity in Sebayur Island. Still, some visitors also love trekking. There are some beautiful hills near to the beach. The scenery is indeed jaw-dropping from the top of the hill. The trip takes only a few minutes. It can be longer, though. Make sure you have good stamina. It is wise to come with a tour guide. He or she may accompany you to reach the hilltop.
If you don't like to spend much energy, you can simply relax in the resort room. The facilities and services are excellent. You can enjoy either Indonesian or Italian food, as well. No wonder, the owner is an Italian.
Nearby Attraction

Rinca Island
Komodo Island
Komodo National Park
Kalong Island.
How to Get There
Sebayur Island is located near to Rinca Island. It takes about 30 minutes. You can use a speedboat to reach Sebayor. If you come from Labuan Bajo, it is about 2 hours. The most common transportation is definitely a speedboat. No worries. Sebayur is easy to reach, after all.
Where to Stay
The best accommodation in Sebayur Island is Komodo Resort. It provides numerous facilities and excellent rooms. In fact, you can rent a canoe or snorkeling gears. All tourists don't need to carry any diving equipment. What you need is money. Isn't that great? As an alternative, there is also Beach Resort. It is located a little bit far, though.