Exquisite Beauty of Mawan Island in Flores
---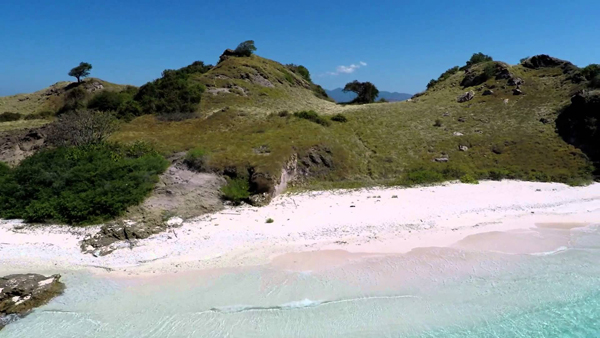 Flores Island is part of Indonesia. It is a situated in the East Nusa Tenggara Province. What makes it so special, actually? Well, you can find many islands nearby. All of them are beautiful. If you look for a reference, there is Mawan Island. It is a simple yet stunning island. The best attraction is the scenery from the hills. That means tourists can enjoy memorable trekking in Mawan Isle. The best time to visit is during summer. The nuance is soothing and the land is covered by dry grasses. It is similar to a savanna!
The Nuance
First, it is the sky. In the summer, the sky is bright and blue. The sun ray is reflected in the crystal clear sea. You can see a neighbor island on the horizon. It is indeed a worthy view. When it comes to the beach, it features white and soft sand. You can even walk barefoot on it. Behind the beach, you can find majestic a majestic hill. It isn't quite steep, so you can explore it easily. The hill is suitable for trekking. Also, it is covered mostly by grasses and thatch.
Exploring Mawan Island
For tourists, there are two primary activities in Mawan Island. First, it is snorkeling. The clear and calm sea water attracts many divers. It features beautiful coral reefs and marine creatures. If you are lucky, you can even find manta rays. There are some best spots for diving, as well. It is better to find information from the locals or the instructor. This way, you can efficiently explore the beaches. Another consideration is the equipment. Make sure you wear proper equipment and tools.
Another favorite tourist activity is trekking. Only a few of islands near to Labuan Bajo have a good route for trekking. Mawan Island is one of them. However, the island doesn't feature steep hills. For advanced trekkers, it would be quite boring. On the other hand, common tourists will definitely enjoy trekking in Mawan Island. It takes no time to reach the top of the hill. That means you won't get tired easily. It is a perfect activity for beginners.
Nearby Attraction
Mawan Island is part of Komodo National Park tourism. That means you can also explore nearby attractions like Rinca Island, Padar Island, Komodo Island, and Labuan Bajo. Each of them offers lots of tourist attractions. Another good spot is Lintah Strait. Here, you can find many fishes. If you are lucky, you may meet several mantas. The depth is about 17 meters. No worries, it is suitable for both beginners and expert divers.
How to Get There
In order to reach Mawan Island, you should visit Labuan Bajo. From here, you only need to spend about 1 hour on the trip. A speedboat will bring you there safely. One thing, Mawan is a secluded island. You can't find ample facilities nearby. When it comes to hotels, you should have had it in Labuan Bajo.
Where to Stay
Here are some recommended hotels in Labuan Bajo:

Bajo View
Blue Marlin Komodo
Hotel Mutiara
L Bajo Hotel