Ata Modo Tribe in Komodo Island
---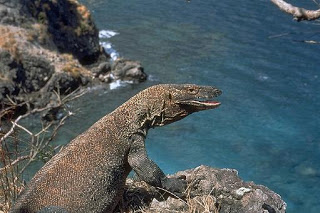 Have you ever visited Komodo Island? It is a beautiful place in Flores Island. The best attraction is definitely the Komodo National Park. Still, you can explore other vacation spots like Rinca Island, Padar Island, and much more. Here is the thing. You can even learn local cultures. There is a famous tribe in this region. The name is Ata Modo. The rumor has it. This tribe is able to talk to Komodo dragons. You can learn many things from them. These include their traditions, traditional clothes, and martial arts.
About Ata Modo Tribe
Once you reach Komodo Island, you can explore numerous tourist spots. Ata Modo is the original inhabitant of the island. However, some of the residents are newcomers. They came from nearby islands like Sulawesi, Manggara, and Bima. You can even find Bajau Bugis Tribe here. Ata means "people of the forest" and Modo means "dragons". This tribe has unique apparel. The most recognized one is their hat. The shape is similar to the head of a komodo. They use checkered sarong and white fabric pants.
Meeting Ata Modo Tribe
It is a little bit hard to meet Ata Modo Tribe. In this case, you should use the help of a tour guide. As an alternative, you can rely on your tour agency. They will take care of everything for use. Usually, this tribe may perform a martial art. They carry a cane work shield and a whip. Two fighters face each other with the same tools and apparel. This is definitely a good attraction for tourists. Make sure you carry a camera.
Ata Modo Tribe has been influenced by other cultures. When it comes to religions, there are different beliefs in Komodo Island. These include Christianity and Islam. Next, it is regarding their appearance. This tribe has a brighter skin than Flores people. Not to mention they have a distinct language and dialect. With these differences, you can easily spot Ata Modo people. On top of that, the majority of people in Komodo Island belong to this tribe. The others came from Bima and Bugis.
Ata Modo people are mostly fishermen. The others are local carvers. They sell souvenirs and carvings to tourists. The rest of them work in several restaurants and hotels in Labuan Bajo. Once you reach Komodo Island, you can find many kids passing by. Some of them may approach you and ask for a photograph. Thus, you must ensure to carry a camera. If you are lucky, you can stay in one of the villagers' house. That means you can also enjoy their traditional culinary.
Nearby Attraction

Komodo National Park
Komodo Village
Gili Lawa
Labuan Bajo
Padar Island
How to Get There
Your first destination should be Labuan Bajo. From here, you need to use a speedboat to reach Komodo Island. Most of Ata Modo people live in Komodo Village. That means you must head to this location. These people are friendly. Actually, it will be helpful if you can talk local dialect.
Where to Stay
The nearest hotel is Komodo Resort. In Labuan Bajo, there are also many hotels available. You can choose one based on your budget and preferences. Make sure you have reviewed them all. This is going to be a wonderful vacation
Latest News
Koja Doi Village is located in East Alok sub-district, Sikka Regency, East Nusa Tenggara (NTT). Visitors can access this village by boat with a travel time of about 40 minutes from Nangahale Harbor. Koja Doi is one of the tourist villages that won the Indonesia Sustainable Tourism Award (ISTA) from the Ministry of Tourism and Creative Economy. This village offers marine tourism, nature tourism, and cultural tourism. Koja Doi Village has several spot to visit, such as the site of the 1992 tsunami, a stone bridge, ancient rock hills, and…
---
West Sumba has a number of beaches that are destinations and attractions for its tourism sector. One of them is Marosi Beach. This beach is located in Lamboya District. You don't need long from Waikabubak to the location. Enough to travel overland for approximately one hour. In fact, you are also not charged a levy when entering this beach area. Marosi Beach is a beach that is completely empty of visitors. This is a recommended place for those of you who want to get rid of boredom from tired activities.…
---
Aili Beach in Central Sumba Regency, East Nusa Tenggara Province No one can deny the values of natural attractions like beaches, no? When it is about beautiful beaches, East Nusa Tenggara Province has many of them including the one called Aili Beach of Central Sumba Regency. To be exact, the location is in Konda Maloba Village and it resides in South Katikutana Sub-District. Like other beaches of NTT Province, this one is recognized for its pristine nuance and beautiful white sand. The good thing is that it resides in the…
---
Gunung Meja Waterfall in East Sumba Regency Aside from exotic beaches and interesting local culture, East Nusa Tenggara Province is the home to other tourist attractions including waterfalls. Well, one of them resides in East Sumba Regency, which is called Gunung Meja Waterfall. To be exact, the location is in Kuta Village and it belongs to Kanatang Sub-District. Have no worries. The distance is considered especially for those coming from Waingapu City. So, what makes it unique? Some locals call it the hidden nirvana waterfall due to its nice landscape…
---